Every single minute your business is active, you are inevitably losing invisible money. How do we know this? It is a fact that if you run an online store, more often than not your customers are abandoning their carts before checking out.
On average, a staggering 65% of all shopping carts on the internet are abandoned before hitting the payment screen. This isn't the highest we've seen though. At the start of COVID-19, cart abandonment soared to 94%!
What's more intriguing is the rate of abandonment per device - the highest rates being on mobile phones. Some items are more prone to "window shoppers". Categories like women's knitwear and lingerie are frequently viewed online, and are added to a cart but not necessarily purchased; whereas, visitors of gaming websites almost always proceed with the transaction.
Geography also plays a role too; the highest abandonment rate is in Spain and the lowest in the Netherlands. And like place, time also matters. Massive sales periods, such as Black Friday and Boxing Day, obviously come with a huge increase in website traffic. However, increased engagement goes hand in hand with frequent cart abandonment.
There are a multitude of reasons why someone might abandon your website at the checkout. Over half of all shoppers will lose interest and leave if they have waited longer than 3 seconds for the page to load. A similar percentage will leave if they have to enter their credit card or shipping information for a second time. Just under 50% of all consumers won't proceed any further if a discount code does not work.
Other reasons include if the checkout process is long-winded and complex, or if the site appears untrustworthy and does not display a security badge.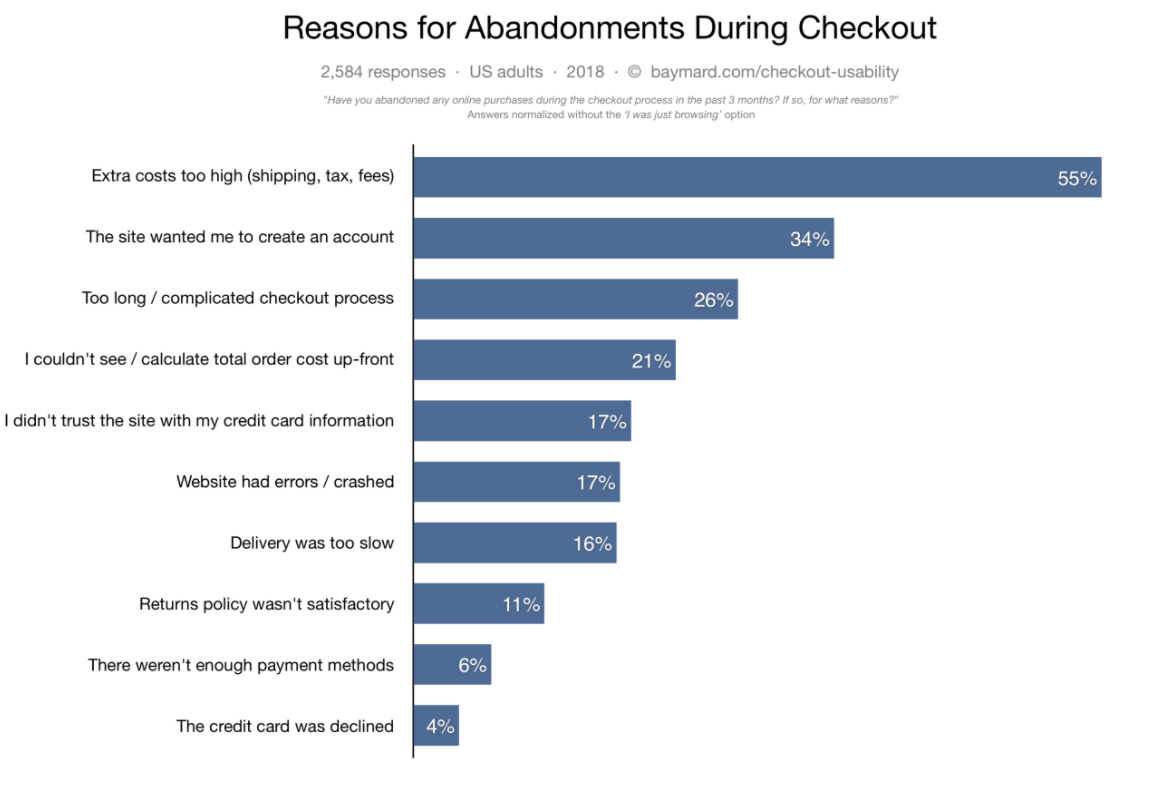 Whatever the reasons may be, it's clear that cart abandonment is fairly common within the eCommerce industry, but that doesn't mean you need to accept it. There are various ways your business can combat this significant downfall in sales, and we are here to unveil them.
Cart Reminder Emails
There is approximately $260 billion in lost revenue globally due to cart abandonment, and most of it is recoverable with the right automation in place. A cart reminder email is extremely simple, yet effective, which is why so many eCommerce stores do it.
The best time to send an abandoned cart email is approximately one hour after the cart is abandoned. This is when you have the highest chance of converting potential customers into loyal buyers. In fact across all industries, 40% of people will open the cart reminder email and around half of those people will go through with the final purchase. In simple terms: if you implement a cart reminder email, you'll instantly increase your potential conversions by 25%.
Success will vary from industry to industry, largely based on popularity. It all comes down to retargeting your customers and successfully drawing them back in; after all, they did get as far as the checkout, there must be a reason they filled their cart in the first place. Sometimes your visitors will need a bit of extra prompting to make that final step and so now, it's about giving them a reason to complete the transaction.
So how does the email work? You set up automation within your Shopify store. Then, a visitor who has already provided their email address during the checkout process will be emailed if they abandon their cart. Shopify have provided documentation on how to do this.
We have a few tips to help you nail the cart reminder email:
Use a powerful subject line to grab their attention. A commonly used one is "We noticed you left something", or try making it personal by saying "John, you've left some items behind".
Play up the 'mere urgency effect'. Each day individuals weigh up certain tasks and the value they have once completed. These tasks are either future goals that take time to complete or urgent tasks that usually have an instant payoff. If you make the abandoned cart reminder seem urgent, your guests are more likely to take action quickly.
A really basic subject line that works could be constructed like: "Name, your cart items will be lost in an hour". You can even opt to include a special incentive with a sense of urgency like: "Hurry, finalize your order within 24 hours and receive 10% off".
Optimise your checkout
The average eCommerce store has nearly 40 potential areas for improvement, in terms of its checkout page. There is heaps of room for optimisation, and if you do it well, your eCommerce store could be up there with the world's best-optimized checkouts. These businesses render a cart abandonment rate of just 20%. It's clear that getting this step right is the key to it all.
So how do you achieve a highly optimized checkout page? Well, we find it best to put ourselves in our customers' shoes, think about how they encounter your website and deliberate what their pain points may be. The majority of customers really dislike being forced to register, especially if it's their first visit to the site. We suggest enabling the 'guest checkout' to counteract this issue. Guest checkout allows your visitors to move faster through the checkout process, essentially reducing any friction that may prevent them from purchasing, and therefore reduces the rate of cart abandonment considerably. Streamlining the registration process is also worth your time. You can do this by enabling social login features like Login with Google or Sign in with Facebook, completely bypassing manual registration.
Additional options to enhance your checkout process include limiting required fields as much as you can; this is to avoid overwhelming visitors with a complex checkout. The most optimized checkout on the internet has a maximum of seven form fields and 12 form elements. It's worth keeping those numbers in mind. Using thumbnails of items added to the cart also assists with keeping visitors on track, by reminding them what they're here to do.
Use well-known and secure payment methods
Another common reason why people may abandon their cart is a lack of secure payment methods. And sometimes, it's not even that - but a lack of preferred payment method instead. In fact, 25% of all shoppers feel a sense of security when Paypal is a listed payment method on a website. It's clear that today's society likes to have unlimited options and for the shopping experience to be tailored to their own needs. If your checkout doesn't use a secure payment method or does not offer a range of payment options, then you're sadly fresh out of luck. The more hassle-free you make it for your visitors, the more appealing you will become.
Get in the habit of offering a multitude of payment options, and onboard a third party payment processing team if you need to. The most popular options on the market are Apple Pay, Square, Amazon Pay, Stripe, Paypal and Google Pay. A good mix of these will work wonders for your cart abandonment rates.
Display trust logos
Three quarters of all shoppers online will not proceed with a transaction, if they do not recognise the trust logos displayed on the website they are browsing. It's important to remember that when you're asking a customer to fill in a payment form, you are asking them to hand over their sensitive, personal information. It's not just their contact details, but understandably their credit card details that are very difficult to part with. It's vital that you make this step simple for your consumers, ensuring a sense of security by displaying trust badges on your businesses website.
Place logos as above in a prominent position, somewhere close to the transaction form that will be filled out. Seeing this in their field of view, confirms that you are authentic and that their private details are in safe hands.
Provide incentive
Hidden costs are a big no-no. People hate being taken for a row, and if they get to the checkout to find undisclosed shipping costs, one in four will not continue with the transaction. Would you risk 25% of all your sales? No. There's no justification for hidden costs and surcharges. Not only is it incredibly annoying to be hit with enormous shipping charges, it also fractures the trust established between your eCommerce store and your customers.
By disclosing shipping costs from the get-go, you are essentially saying "we appreciate transparency, here's what to expect from us". If you can offer free shipping this is even better; on average people will spend 30% more per transaction, if there are no fees associated whatsoever.
Customers will appreciate finer details too, such as shipping time frames. Including this information is a big positive for any eCommerce store. If applicable, next day shipping is a great way to ensure customer satisfaction because it screams efficiency and professionalism. Other incentives you might like to offer include things like money-back guarantees, and free returns and exchanges.
Improve page loading times
We have one final tip to share. Think about this; for every one-second delay in your website pages loading, your shopping cart conversion rate drops by 7%. This sounds like a made-up statistic but we can assure you, it is not. These precious moments are enough to push even the most patient shopper straight out the door. This is why optimizing page loading times is critical.
Some elements of the website will be easier to optimise compared to others. Balancing the quality and speed of your website images is a good start; not only does it improve your cart abandonment rate, it also helps with SEO. The most common ways to optimise images include re-sizing, caching and compressing. If you're showcasing product images or landscapes, JPEG is usually the file format of choice because the quality is good and it doesn't take up too much room. The upside to using a PNG instead is that it's perfect for graphic design and logos, and offers a transparent background which means the image will load quickly. If you're using thumbnails, particularly to highlight blog posts or service pages, do your best to compress them by using a scaled-down version of the original image.
There are some things that are further out of your control, which may also impact your page loading speed. Of note is the delay between your customer clicking "place order" and the payment gateway processing this payment. A factor well out of your hands, but can easily impact your conversion rate. It's highly recommended that you display some form of visual icon such as a progress bar, which lets your customer know that the payment is indeed being processed and to sit tight. A confirmation of order screen should follow this, whether there is a delay with your chosen financial institution or not.
The bottom line
Unfortunately, cart abandonment rates are currently sky-high, but that doesn't mean you give up.
There are plenty of things you can do to reduce the impact this may have on your store. The most crucial step of all, is optimizing your checkout efficiently and ensuring you have no hidden costs. Transparency is everything, because a happy customer means a full cart, end-to-end transactions and ultimately an increase in revenue.
Stay tuned for our next blog post in this Shopify eCommerce 101 series - where we plan to walk you through the steps on getting better performance out of your eCommerce store, and how to do better web design to improve customer experience.