Why is my website not converting?
In an era driven by digital, having a reliable website means your business will have maximal reach across the globe. So, you bit the bullet and decided to make one. You've agonized over the design and the content, but you've made it and you're delighted to share your online platform with the world. This is the beginning of your sales journey and the transition to having your website be your best sales person.
There are so many things that can go wrong during the development of a website, leaving you scratching your head wondering why? Simply though, it isn't your job to understand why your website isn't converting - it's ours. Any good digital partner will pledge to you how vital a strong digital presence is and why you need to get it right.
There's definitely no shortage of online content aimed at increasing organic website traffic. However, it's not just about driving customers to your site. Approximately 96% of visitors that come to your website are not ready to buy; once they're there, you need to convert them. If you find yourself in the predicament of "why is my website not converting?"; Then continue reading as we share the most common businesses make when designing their website.
A poorly optimised website
The internet audience is highly demanding, that's just a fact. If your website load time is greater than 8 seconds, you'll find that your bounce rate (a bounce is when a user visits your website and leaves within x period of time) is quite high - which is absolutely something you want to avoid. Slow load times are usually in more cases then not the issue to blame as to why websites aren't converting or why their SEO is not where they would like it to be.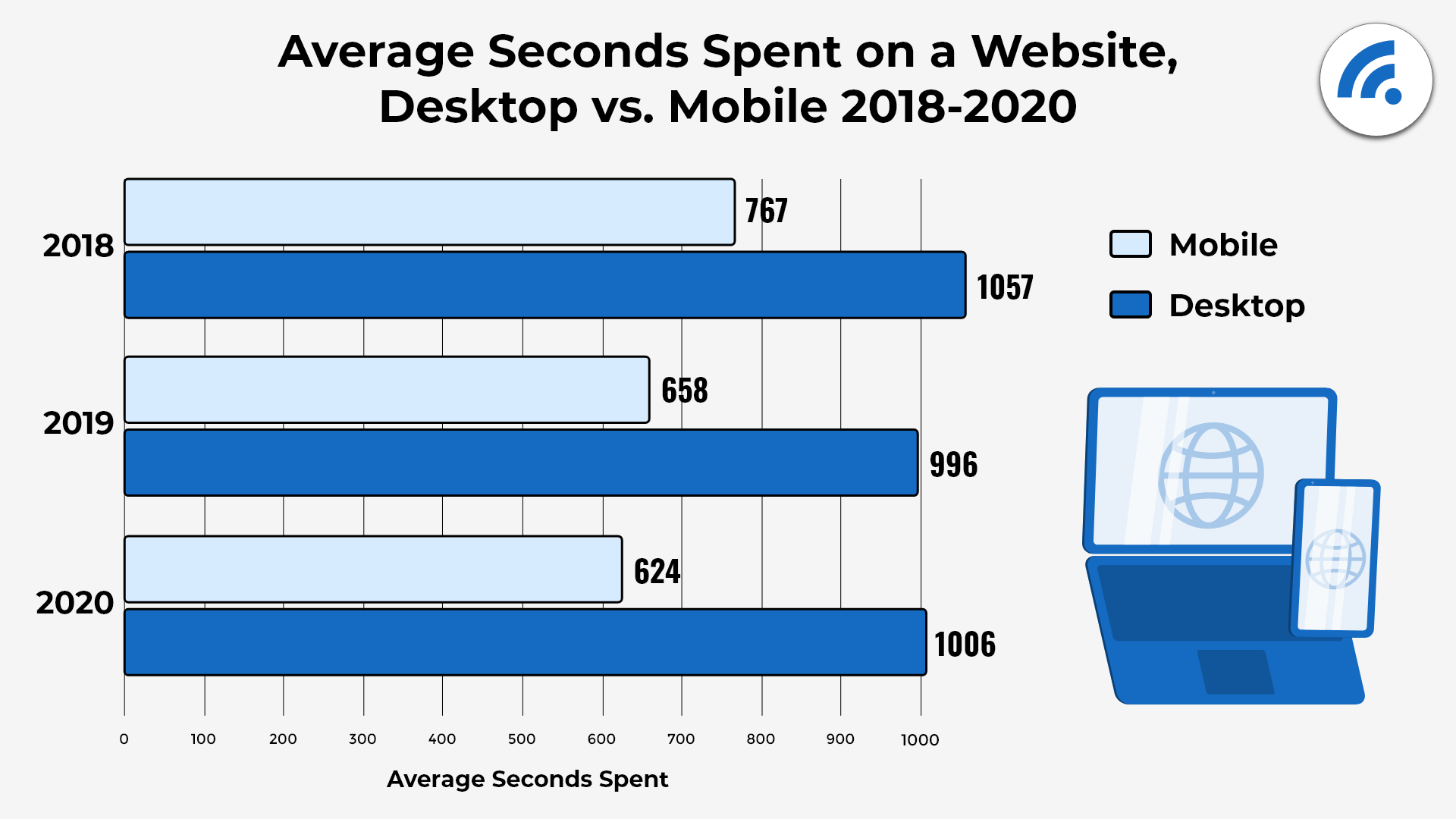 Broadband search have a great post on mobile, desktop and internet usage statistics from last year which further highlight the importance of having a fast website for mobile.
Even more importantly, Google doesn't like slow websites as it results in a poor user experience for their users. You might be asking yourself, why does it matter? If you are then probably haven't heard of SEO, nor are you implementing it effectively.
For those of you who don't know - Google has a bunch of algorithms that work together to rank websites on the internet in order of "highest quality" to "lowest quality". The higher the rank (meaning the higher the quality), the more visible Google and other search engines will make your website. Without a decent rank, your website is just a needle in a haystack. SEO is all about making iterative improvements to your website and then monitoring the results in order to increase that glorious rank within each search engine's result pages.
Thankfully, uncovering why your website is so slow isn't rocket science. You can test-run your website to identify the issues yourself, or you can utilise online tools that do the dirty work for you. Moz is an SEO tool that analyses your website for you and suggests improvements to increase your organic traffic.
To ensure that your website is working optimally and loading fast, follow these tips:
Reduce the amount of bloated code and plugins
Invest in hosting services which great reviews and avoid the cheap stuff
Utilise file compression, reducing the size of CSS, HTML and Javascript to make them easier for the user's browser to serve
Optimise your images ensuring they are not larger than they need to be and are in the right format. PNGs are better for quality, and JPEGs are better for compression
Leverage browser caching by using tools like YSlow to see if you have an expiration date set for your cache. Usually, a year is advisable and reasonable
Ensure your server response time is less than 200ms. Moz has a great resource about optimising your TTFB (time to first byte) to help with your SEO ranks
Bad UI (user interface) and UX (user experience)
The importance of an aesthetically pleasing website almost speaks for itself. As humans, we are drawn to things that are appealing, tasteful and symmetrical (yes, uniform lines are exciting on websites). Again, consumers are demanding and expect a certain level of quality from the companies website of the products or services they are purchasing. A poorly designed website will crush your conversion rates before they even take off, because who wants to look at a hideous website?
These are just a few of the reasons why your website may not look good:
Cheap website design
Little awareness of what makes a website easy to use / attractive
Lack of motivation to create a website that represents your band
An external evaluation on your website is a great way to receive unbiased feedback, which you can put to good use. And if the results aren't great, it's time to think about investing in a new design. Think minimalistic, modern, and sleek - which sums up the ultimate modern user experience.
We offer web design services that centre around your end-users and customers. Our goal is simple: We blend dynamic, customer-centric experiences and drizzle them with cutting-edge technology to pioneer digital growth.
Here are some additional tips for increasing your website's charm:
All forms should be short and sweet
Keep the essentials and minimise the distractions. Include headline and subheadings, benefits and features of your product/service, testimonials and visuals. You can use tools like Crazy Eggs heatmap, to track what your users actually click on during their navigation of your website. This will help you decide what needs to stay, and what needs to go;

What needs to stay are your call to actions, informational content and links to related content
What needs to go are your long-winded explanations that don't drive customers toward conversion, headers with lots of links, etc.

Don't offer too many options, it's just plain overwhelming
Mobile-first indexing is in, and it matters in a big way
Hand in hand with poor design is lack of mobile compatibility due to a poor mobile design. There are 5.22 billion people across the world who currently own a mobile and statistics show that 55.6% of all users browsing your website are on a mobile device.
There's no point in having a beautiful website if it lets you down whenever it's loaded in its mobile version. As if the embarrassment of janky mobile UX wasn't enough, at the start of this year Google announced that mobile-first indexing is here in a big way. To answer your question before you ask it, mobile-first indexing means that Google will use the mobile version of your website's content for ranking purposes. Ultimately, therefore, the mobile version is much more important than the desktop version.
Lack of meaningful steps for your user to take action After spending some time browsing your website, the user will decide whether they need what you're offering or not. Using a generic call to action, like "sign up now" likely won't give you the best conversion rate, because users enjoy a highly personalised experience.
From a psychological standpoint, painting your CTA in a confident light makes taking the next step seem like a positive one. Try using the word "yes" before your main CTA; for example, "Yes, I want to sign up!" Or another great way to collect user information is to have what they call a "conversational form". A conversational form is one that presents the user with one question at a time. When the user answers the question, it saves the answer and moves on to the next. It's personal because it feels like the user is having a conversation with a human.
This gives ample opportunity for you to get the user to commit to filling out the information, and then hiding it behind an email collection form. When the user answers your 5-6 questions they're already psychologically invested in what you're offering or providing to them, so they're much more likely to hand up their email which gives you a great opportunity to dive into some sales funnels using email marketing.
ActiveCampaign (A tool we use here at Convoke Digital) has an amazing resource on building email marketing funnels that convert.
Low brand trust
Trust is a core value of the human species. It forms the basis of every relationship we sustain in both personal and business life. How successful do you think a relationship with no trust would be? Not very. And do you think you'd buy a car from a dealership where you didn't trust the salesperson? No, you wouldn't.
When visitor traffic comes to your site, if they don't immediately feel a sense of trust being built then it is detrimental to the relationship you are forming with them. You want to be on top of building trust as early as possible as without it being a face to face transaction it's very hard to build trust once it's gone.
A few good ways to establish trust with your visitors:
Display testimonials from satisfied clients
Pull Google reviews onto the site
Showcase any memberships with organisations specific to your line of work
Display any partner certifications that your business has
Honesty is integral, live up to your word
Alongside a sense of personal trust - it's important to ensure consumers do not feel compromised or insecure. We recommend using a secure socket layer (SSL) certificate - identified by the wonderful green padlock displayed in the address bar along with https://. An SSL certificate is a way for your site to be verified by a third party company and is an excellent reflection of site security.
Targeting the wrong crowd
It's a simple equation really, more traffic means more conversions. To do this you need to do is invest in SEO and develop a solid digital strategy while utilising some Conversion Rate Optimisation (CRO) services. However, it pays to remember that any business is not necessarily good business.
Let us explain why. A business with a broad scope and no offering of specialist services or products means your client base is massive - it's like you're gold mining without a sieve. This leads to a loss of time and money.
By understanding your customers wants and needs, you narrow your scope (which serves as your digital sieve, or what's known as a "niche"), meaning you can catch all that gold you would have otherwise missed and also service those niche customers much better then you would have your broader customers.
To target the right crowd:
Develop a focused target profile strategy, by evaluating your previous customers
Be confident with pricing. If you price your items too low or exuberantly, you run the risk of compromising the value of your product
Create a brand narrative. Tell your story in the right way, and don't try to be everything for everyone. Your brand is unique, play on this and avoid generalisations
Conlusion
So there you have it. A curated list of information to help explain why your website is not converting and what you can do to fix it.
If you find yourself still struggling or unable to implement the changes yourself, reach out to us at Convoke Digital for a quick coffee or phone call and we'll be happy to listen and create a plan for some conversion rate optimisation to get your website converting more.