The aim of eCommerce is to make people's lives better in some way. This is the end goal for Shopify too. In June 2021, Shopify made a big announcement - they started to roll out their new and improved Theme Editor dubbed 'Online Store 2.0'. What's the purpose of the theme editor, we hear you ask? As the name suggests, the update allows for effortless creation of themes built from the ground up, as well as various technical performance enhancements too.
So what can you do with Online Store 2.0?
Alot. Just a few of our favourite features include:
A streamlined visual ranking system of collapsable sections, allowing you to keep your store more organized and managed
Metafields
Performance improvements and more
If these aren't reasons enough to jump on board, we've compiled a list to aid our rationale. Keep on reading to find out why you should either build a brand new storefront, or just migrate to an existing one.
App blocks
Previously, the way that an app is embedded and interacts with a Shopify store was fairly set in stone. Unless the app developer offers bespoke integrations or specific compatible settings – then the app will appear on your store where it was originally intended to.
With Online Store 2.0, apps are now delivered in blocks within a page giving merchants full control over exactly which pages it will display upon and also the location of the page it appears too. You can even update the app settings directly through the theme editor too! A Shopify revolution and welcome change for both merchants and app developers.
Metafields now in store
Metafield are extra pieces of data that can be assigned to specific parts of Shopify which allows you to add unique product information to your product and other resources. Prior to Online Store 2.0, Shopify only allowed the page title and one single rich text editor for page content of any page, product or collection. But what if you wanted to add more specific fields or information to go in a specific space of the page like an ingredient list or size chart? You needed a Metafield app or API to create and manage these. There was a whole process you would undertake, flicking between the app and theme editor to make changes to a single resource.
Not a vibe, right?
Thankfully now, metafields can now be added directly to the resource pages in the, saving your precious time (and money on private apps) and increasing efficiency.
Reusable sections on every page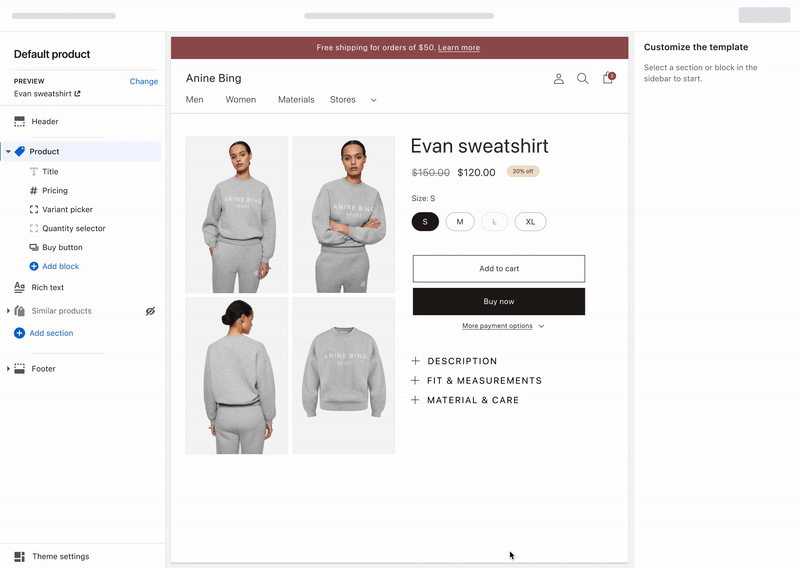 Finally, a game changing feature has been added to the latest edition of theme editor and we could not be more excited.
A section is simply an element within a page such as a banner or block of text. These sections were only usable on the homepage, but now with Online Store 2.0 you can add these sections to all page types.
They allow you to have a developer build out common resuable sections, and then be placed, rearranged, or deleted on any page at any time. Giving you the complete freedom of your Shopify store. We'll no longer need to pay to use separate page builder apps to create different pages.
Dawn
Shopify has released a reference theme for developers to begin crafting new themes with the new practices in mind. By the end of 2021 all themes on the Shopify theme library had to be Online Store 2.0 compatible, but Dawn was one of the first.
The way of the future
As this latest version becomes intertwined with the Shopify platform, the two will start to evolve together. This means that Store 1.0 themes and features will eventually become redundant. We recommend jumping on this and setting yourself up early to avoid running into this issue later down the track.
---
If you're new to Shopify, triple check that your theme is on 2.0. For those of you with pre-existing storefronts, ensure you migrate your existing theme. If you need help with either, drop us a line. This is our bread and butter, and what we love doing most.